Home and Interior Design Software
Home and Interior Design Software
Perfect solution for all your devices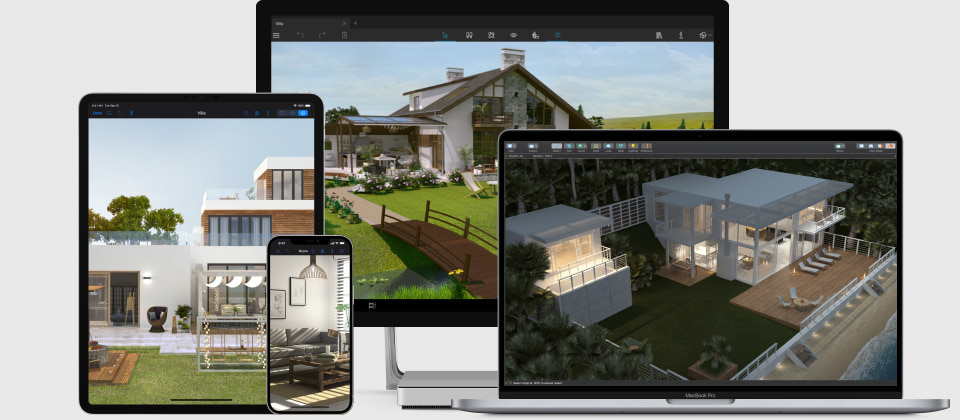 Live Home 3D is multi-platform home design software that helps anyone create detailed floor plans and 3D renderings. You will be amazed how easily, quickly and precisely you can lay out and furnish a room or an entire house, plan exterior and adjust the terrain.
MAC
Live Home 3D
Intuitive Home Design Software for Mac
Design Floor Plans With Ease
Creating floor plans of any level of difficulty with no hassle has become a reality. With the diverse design tools, you can create a new floor plan or trace your own in Live Home 3D. Once it is ready, switch to the 3D view to see how it would look in real life.
Visualize 3D Home Designs
Enjoy the highly realistic 3D mode of Live Home 3D, while working with furniture and decorations, painting walls and adding plants. Walk around your project to feel the atmosphere and try out your interior design concepts. The convenient Roof Assistant offers you 12 customizable roof templates to choose from.
Realistic Lighting

You have full control over luminosity and color of any light source, and you can turn the lamps on and off when necessary. Setting the geolocation of your house, you can evaluate real light settings in your rooms at different times of day and plan your lighting scene accurately in advance.
Tons of Furniture Models and Materials

With 2,400 3D models and 2,100 materials available in the app's library, you will certainly find something to your liking. Just drag and drop 3D models or materials from the library into the project. You can use the materials as is, edit them or even create new ones. Multiple additional in-apps provide more houses, furniture models and materials.
Import Objects
In addition to rich 3D model collections, you can import your own objects in FBX, 3DS, COLLADA and OBJ formats. Or, download models from Trimble 3D Warehouse™, a huge collection of 3D objects.